Geometry Neon Dash Rainbow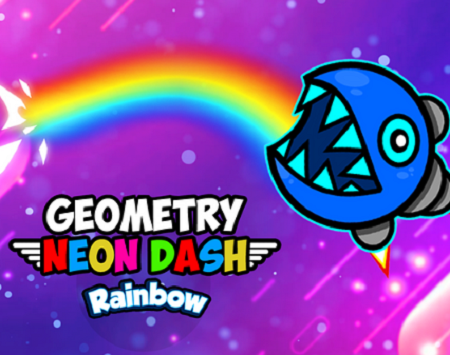 When you're passing an arcade, you know it's not just about demonstrating enough skill and reaction to handle all those tricky obstacles and miraculously avoid the most cunning of traps. Oh no, what really testifies to your expertise in this genre is the score you have in the end. So if you're ready to risk your few lives for sake of grabbing another star that hangs way to high or twinkles way too close to the abyss, welcome to Geometry Neon Dash Rainbow!
Collect all the stars and strive for the record score!
The game challenges you to earn a maximum number of points by picking up every single star you can see on the level. That won't be easy since you'll have to perform crazy stunts and maneuvers to put yet another one into your pocket. The obstacles are wild and you need to strain your every nerve if you hope to survive until the finish line. Plunge into the world of bright neon colors and daring hurdles playing this fascinating take on the classic Geometry Dash online!